Oscommerce Shopping Cart Website Design, Development, SEO and Hosting Company
---
Expert Web World is experienced Oscommerce shopping cart website design and development company based in Panchkula near Chandigarh, India. We have 6+ year experience and vast knowledge in Oscommerce development, SEO and web hosting. We have developed and contribute many plug-in in Oscommerce contribution section since 2006. We work on Oscommerce daily basis to develop new plug-in and maintain old one in Oscommerce community. We design unique and high quality Oscommerce templates. Time to time we upgrade Oscommerce websites to avoid any hack. We provide expert quality wise Oscommerce development services to our Indian client as well as outsourcing in UK, USA, Russia, Canada and Australia based clients. We provide global technical online support to our client via Skype, Google talk and live messenger on time.
Not internet security? Have you had your Oscommerce hacked? just call us +91 7986183467
Oscommerce is widely used open source shopping cart which is available free under the GNU license. Every server now a days provide free installation in his free application list. Its run on PHP and Mysql platform which is also open source. Our Oscommerce developer team is highly professional and instant in terms of any Oscommerce problem solution. We take care of every Oscommerce web project and response within a committed time. We are offering from start to end service for Oscommerce shopping cart development. Clients get the Oscommerce shopping cart website in a committed time period, in a very reasonable and budgeted price. Click here to get free website design quote from us.
Oscommerce Website Design and Developer Team
We are working on Oscommerce shopping cart since 2006 so we have depth knowledge of Oscommerce structure. Oscommerce developer team efficiently works on Oscommerce project to deliver on time with all features. We provide instant help in any problem with Oscommerce websites.
Oscommerce Services :
Custom oscommerce theme design and implementation.
PSD to Oscommerce theme design.
Implement SEO functionality.
Implement discount system.
Installation of Oscommerce module.
Integrate payment gateway.
Implement CMS pages into Oscommerce admin section.
Upgrade Oscommerce version
Analysis and Optimize the Oscommerce website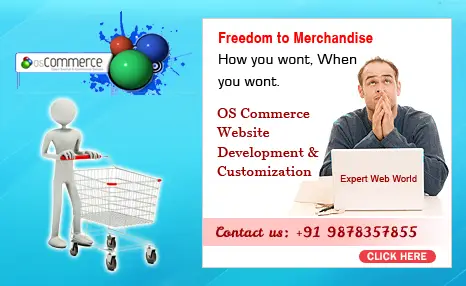 Oscommerce Features :
Open source and free shopping cart.
Unlimited customize products and category list.
Multiple languages support.
Easily change design from admin.
Backup and restore database.
Multiple currency support.
Store all customer history and orders.
Easily generate unlimited products attributes.
Weight and price wise shipping option.
Zone wise Tax facility.
Products stat reports
Oscommerce Popular Plug-in / Addon :
Oscommerce Website Hosting
If you are looking for a best quality hosting for your Oscommerce website then you are in right place. We have vast experience in Oscommerce development, designing and hosting. For your Oscommerce website hosting you should start with the bronze web hosting package. You need latest PHP and Mysql version on the server. If you have not register your domain name yet then go to www.expertwebworld.in and reserve it now. After some time if the product and category range increased with images then you have to update the package to get more space and bandwidth. You can also install it from your cPanel as 1 click installation. You will get lots of free open source software in your cPanel.
Related Articles :