Static / Dynamic websites Chandigarh | Union Territories
---
There are basically two main types of website - static and dynamic
Static Website : Static website can help your business to present your products, business information, services, and any other important information you want your visitors to have access to. Static websites are designed for easy downloadable images, implement JavaScript, Jjquery, browser compatibility and easy navigation having effective graphics and interactivity. Sites may include any number of pages with minimum jquery, javascript and HTML which helps in SEO. Building a static website is reasonably simple because the development technology is simple to use. Static site is one that is written in plain HTML and XHTML, what is in the code of the page is what is displayed to the user.
dynamic website design company
dynamic website design company india
in India with 24*7 service.
Regular 5 page price: INR 9000, Sale INR

7500

(Sale ends ) Available on:

Expert Web World

Condition:

New Clients only.

Order now!
Advantages of static websites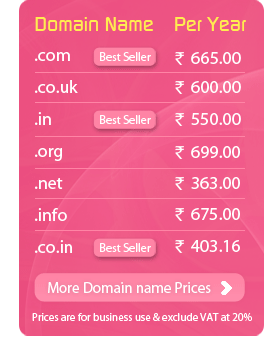 Quick to design
Cheap to develop
Cheap to host
Cheap in maintains
Flexibility is the main advantage of a static website
Static websites - disadvantages
The main problem with any static website appear when you wish to update the content. Except you are familiar with HTML and the design methods used in the site then you have to go back to the designer to have any content changes made. This may be perfectly ok when a new page is required which needs design input, but if all you want to do is change some text then it can be a nuisance for both client and designer.
The second main problem is scalability. If you wish to sell products on your site and you have a lot of them then you may have to construct individual pages for each one, which can take considerable time, effort and cost.
Requires web development expertise to update site
Dynamic Website: Is one that is written using a server-side scripting language such as PHP, ASP.Net, JSP, ColdFusion. Dynamic website can give the website owner the ability to simply update and add new content to the website page with the help of CMS. For example, news and events could be posted to the website through a simple browser interface. Dynamic features of a site are only limited by mind's eye. Some examples of dynamic website features could be content management system, eCommerce system, property websites, bulletin / discussion boards, ability for clients or users to upload his documents, ability for owner or users to create content or add information to a website (dynamic publishing).

Advantages of dynamic websites :
Much more functional website
Easy to modify the design from website control panel
Much easier to update
Unlimited category, product and pages options
Easy to format the content and insert images
Same time these updated content reflect in the front end of website.
Easy update from anywhere using a PC and internet from admin area.
New content brings people back to the website and helps in the search engines
Disadvantages of dynamic websites
Slower / more expensive to develop
Hosting costs a little more.
If a single error occurs all functionality will stop.
About Chandigarh, Union Territories India
Chandigarh is a city and union territory in India that serves as the capital of Haryana and Punjab. Le Corbusier was in fact the second architect of the city, after the initial master plan was prepared by the American architect-planner Albert Mayer . India's first planned city, is a rich, prosperous, spic and span, green city rightly called " THE CITY BEAUTIFUL ".

Attraction point are Bamboo Valley, Botanical Garden , CITCO Hotels , Sukhna Wildlife Sanctuary . Famous colleges in Chandigarh are BHILAI INSTITUTE OF TECHNOLOGY , Chandigarh College of Engineering and Technology , DISHA INSTITUTE OF MANAGEMENT AND TECHNOLOGY , Government Institute for the Mentally Handicapped, Government Medical College & Hospital , Sri Guru Gobind SinghCollege of Pharmacy , Chandigarh , Shri Guru Govind Singh College , Government College for Girls, Sector-11, Sector-42, Government College, Sector-11, Sector-46 .

Most famous and luxurious hotel in Chandigarh is The Piccadily Sector 22 B, Hotel Antheia 170-171 Sector 34 , Hotel Park Plaza S.C.O 3035-36 Sector 22-D , Park Inn Hotel SCO 433-434 Sector 35-C , Hotel Himani Residency S.C.O. 469 - 70 Sector 35 - C, Hotel Maya Palace S.C.O. 329-32 Sector 35-B , Hotel Regency S.C.O. 329-32 Sector 35-B , Sunbeam Udyog Path Sector 22-B, Hotel Moon and VenusS.C.O 202-03-04 Sector-17-C , Hotel City Heart S.C.O 27 Sector 18-D , Hotel President SCO – 22 Sector – 26 , Hotel Heritage SCO 467-468 Sector 35-C and Hotel Gravity SCO 465-66 Sector 35-C .


EWW team has ability to deliver the best dynamic and static website on time for our web customer. EWW team have the greatest resources to get best dynamic website design and web Development with good planning and SEO skills for provide the best to each customer.
Our development expert checks each dynamic website with team and suggests the tips for web design at the development point of view. Our web developers and web designer team consider to each other and SEO expert guide to both to make professional website design at the SEO point of view and get more traffic for websites. We provide dynamic and static website services in .
Our clients are some UK, USA, Australia and Canada based company which use our outsourcing service in very low price. These company get benefit in terms of low cost, high skilled manpower and less equipment. They get expert quality work in committed time period. We timely update to our agencies and all information we will keep confidential.
If you need any help or have any question or enquiry then quickly contact us.