Website Design India
---
Website Design is the process to give online visual impact to visitor about the business services with colors, content and structure. A web designer includes the task of web usability, functionality, colors and motive of the website. Experienced web designer fetch the idea from requirement of the client and draw a rough structure about design in a page. They keep in mind about deliver the design which is according to client requirement and fulfill the design terms like very high quality, W3C testing, responsive web design, SEO friendly website. Our requirement analyst make a website development plan which is correct, complete, unambiguous, verifiable, consistent, modifiable, traceable. Its very helpful in whole process of website development. We also
Website Design Ideas
Websites are different types like properties websites, ecommerce website, hotel websites, CMS based website, blog design, forum design, web assignment etc. Mainly we divide into static and dynamic website. Structure of website is depends on the client requirement what he wish to show on the home page and inner pages of website. So first Expert Web World company in India get all the requirements of client then design the website. Expert Web designer makes the structure of these designs according to the type so he divided the task into pages, directory structure and these pages should easily accessible, not link broken. All the structure is combined so visitor can easily get the information which they require. Every website design includes a HTML sitemap which is most important in point of Google, Bing and yahoo search engine to get the links of website in one place. Website should also include the search box to find the content easily. Colors scheme should be according to business profile what they used. We use Bootstrap framework to make mobile friendly responsive websites. Now we implementing AngularJs framework to give best to our clients.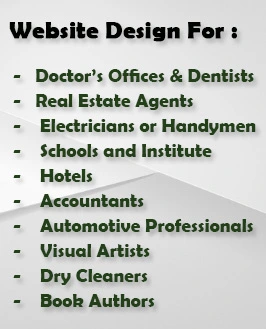 Make sure before receiving the design team will validate the HTML, responsive web design, CSS in W3C standard so in a short period of time website will popular in local search engine. Website URLS should be SEO friendly, images should include the alt tags and before putting the website live there is need to set the meta tags to avoid low page ranking. These meta tags help in the search engine and put the low cost on paid marketing. Website HTML should also manageable so developer and coder will easily cut the header and footer. Expert Web World PHP developer team take care about each page in development and make each page search engine friendly. Some expert designer deliver the header and footer separately to minimize the developer work. They include the comment system in the HTML for understanding.
Website Design Software / Website Design Tools
Adobe Photoshop
Adobe illustrator
Adobe Dreamweaver
Adobe InDesign
Notepad++, Visual Studio Code, Sublime Text Editor
CorelDraw
Golive
Website Redesign / Update
Once the website is live and delivered it enters the maintenance / redesign phase. Website needs redesign or maintenance because some of its components wear out and need to be replaced. After some time there is need to change the banner design, graphic design on the website. Some time errors remaining in the website development phase that must be removed as they are discovered. These errors once discovered, need to be changed, removed leading to website getting changed. The main reason is that website design and development often must be upgraded and enhanced to include more features and provide more functionality. Redesign website, maintenance revolves around understanding existing website and maintainers spend most of their time trying to understand the website they have to modify.
Every website should be easily managed and update in the code so anybody can easily update for future and these code is well written in good way. Time to time website should be upgraded in banner, navigation and content. Make sure your website is also compatible in the mobile search and web pages speed is fast on all devices. Mobile internet user is also growing so website should be good looking without any distortion in effective way. It's sometime difficult to manage the template because these are fixed in structure when they purchased from third party. May be sometime same template are used by many online client with same color and content. Always try to use custom code website design so they can easily manage, upgrade and keep branding. Even custom website design price is less then template. Every website should include the internal link so that visitor can navigate the website easily and understand the content. If you wish our proof reading service about correct spelling, tenses and typographical errors then our charges are very nominal. We provide the service from Chandigarh, India to re-design your existing old website with latest technique web 2.0. Its also good if you wish to show something different services for competition after some time so you need to update your website. One of the biggest problems in website development particularly for large and complex website is that what is desired from the website (requirements). To completely specify the requirements , all the functionality interface, and constraints have to be specified before the website development has commenced. However, as time goes by and the understanding of the system improves, the clients frequently discover additional requirements they had not specified earlier in website development plan. These changes leads to redesign, maintenance, the requirements, the design, the code, programming, all have to be changed to accommodate the new or changed requirements. We provide the free service if these updating work is not more than half hour. Website Re-Design task is very difficult task because there is need to start from scratch and make sure your data will not lost.
Get your free website design quote or contact us for more information. We provide very high quality web servies in Haryana, Himachal Pardesh, Delhi, Maharashtra, Mumbai, Jangpura, Rohini, Shahdara, Gurgaon, Hansi, Hisar, Ludhiana, Malerkotla, Rampur, Renuka and different parts in India to help business succeed. If you are computer graduate and wish a website design training then contact us.

Website Design Sample / Portfolio
We have made near 700+ live unique website in 8 year of experience. There are lots of good basis about why choose us for website design and development in India. Most website options are ecommerce, cms based, unlimited pages website, 5-10 pages website only. Check our portfolio to get some idea. You get template based website with lots of mobile friendly wordpress themes starting INR 2650.