Payment Details - Pay Secure Online to Expert Web World
---
Welcome to securly paid section, we are using below methods to accept payment. Its 100% safe and secure. You can easily transfer the fund of our services website design, development, SEO and web hosting using below information. After the transfer of fund please email us the transaction Id and your website address.

Expert Web World GST Number : 03AJPPD8897G1ZR


Punjab National Bank :
You can also easily pay by Cash/Cheque/Online Transfer of your invoice amount in our current account of Punjab National Bank account.

Bank Name: PUNJAB NATIONAL BANK
Account Holder Name: Expert Web World
Account Type : Current
Branch : Sector 20, Panchkula
Account Number: 4480002100003202
SWIFT Code: PUNBINBBCHA
MICR Code: 160024044
RTGS/NEFT/IFSC IFS Code: PUNB0448000


Google Pay :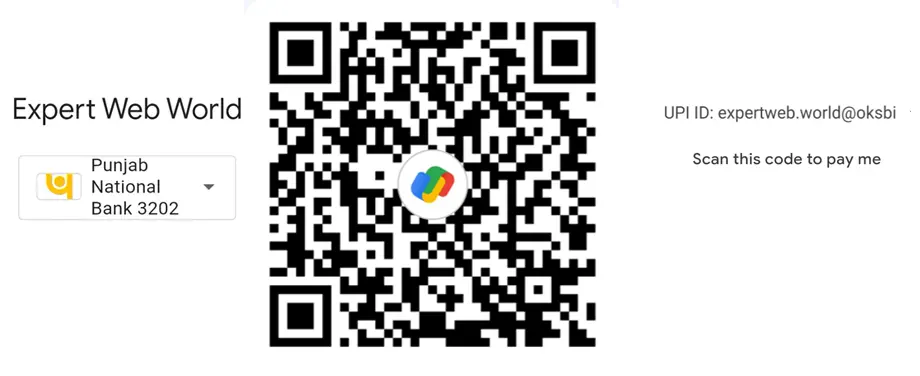 PayPal for Outside India
World Most loved way to pay and get fund through PayPal. You can easily pay your invoice bill by transfering the fund in web.design@live.in account.
Every day, in 190 regions, and in 24 currencies, millions of people (84 million active PayPal accounts and counting) can pay and get paid faster and safer with PayPal. We'd love to have you join our community, too.If you are paying through paypal then make sure add 4% extra service charges into total amount.

Payment Notes :
In case of deposit fund in cash then send scan copy or picture at our Email id billing@expertwebworld.com
After making the payment send details at our email address billing@expertwebworld.com
You can also courier the cheque in favor of Expert Web World.
Once payment is cleared then your service will activated within 1 hour.
Free website quote for your website design or contact us for more information.